Ye Ol' History Of The Troubadour Concert Series
It's an amazing thing . . . one snowy day we were having a conversation in a little Lexington cafe about "art" in America.
As a performing songwriter and folksinger, I was getting frustrated that the music I loved was presented either in small coffeehouses, clubs or outdoor festivals. Not that any is "bad" at all. But just that? Why no "class," no elegance? My good friend Jim Piston listened and, after a few moments we decided, "Why don't we use that old movie theater downtown and put on some shows? You know, let's try it out . . ."
So on a snowy February afternoon in 1993, the Troubadour Concert Series was born. The Kentucky Theater welcomed the idea into the historic venue and let us turn the historic movie house into a concert hall. We all agreed that we would do six shows that summer, assemble a crew of tie-dyed, granola-chompin, sandal-wearing music lovin' volunteers to run the concerts, and just have a good time for the summer. The folks at local radio and TV stations donated advertising.
But who knew? Our six concerts grew. And grew . . . and GREW!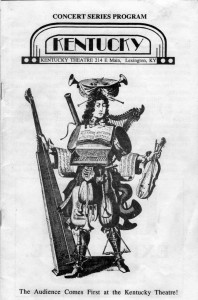 All the shows sold out, the audience loved it and the excitement spread. Now we present concerts at the Lyric Theatre, the Lexington Opera House and even the EKU Center for the Arts. We've turned these grand halls into "Lexington's Livingroom" over 300 times.
PICTURED: the original Troubadour theatre program cover
And in case you don't realize it: the Troubadour Concert Series continues to be all volunteer run. The artists get their fees of course, but the hometown folks who put it on, the ones who run cables, haul speakers, take care of the food and help seat the audience … they are all volunteers.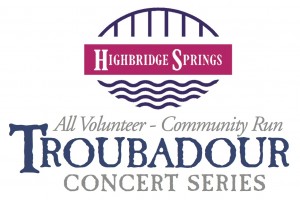 And special thanks to Highbridge Spring Water for making this series possible, plus LEX18, LM Communications, WEKU-FM with WUKY 91.3FM, and ACE Magazine as our media sponsors for the series. And scores of hometown volunteers that run the shows.
And you – Thanks to our loyal and supportive audience, this all-volunteer, community-run music series has become a model for other communities around the nation. Jim and Corday Piston, Connie Harrison, Rick Rushing and many others keep this series happening.
So welcome to our hometown, sit back and enjoy the music!
_
Here's just some of the 320 artists we've presented:
Suzanne Vega • Leo Kottke • Emmy Lou Harris • Judy Collins • Leon Russell • Gordon Lightfoot • Nanci Griffith • Shawn Colvin • Merle Haggard • Steve Earle • John Hiatt • Arlo Guthrie • Steve Wariner • David Gates • Kris Kristofferson Marty Stuart • Nitty Gritty Dirt Band • Taj Mahal • John Prine • Michelle Shocked • Dave Brubeck •Jimmy Dale Gilmore • Alison Krauss & Union Station • Tony Rice Unit • Waylon Jennings • Warren Zevon • Little Feat • Townes Van Zandt • Roger McGuinn • The Mavericks • Don McLean • Chet Atkins • Richard Thompson • Bruce Cockburn • Leon Redbone • Billy Dean • Marty Stuart • Richie Havens • Michael Hedges • Del McCoury Band • Bela Fleck and the Flectones • Bela Fleck, Edgar Meyer & Mike Marshall • Tony Rice, Peter Rowan & Tim O'Brien • Jerry Douglas Band • Rosanne Cash • Kathy Mattea • Patty Loveless • Sam Bush • Kathy Mattea • Rosanne Cash • Norman Blake • Rickie Lee Jones • Nickel Creek • Ralph Stanley • Bruce Hornsby • Cowboy Junkies • Robert Cray Band • Lady Smith Black Mambazo • Vonda Shepard • Beausoleiel • JJ Cale • Blind Boys of Alabama • Michael Martin Murphy • Todd Rundgren • Gillian Welch & David Rawlings • The Neville Brothers • Joan Armatrading • Los Lobos • Shelby Lynne Patty Loveless • Riders In The Sky • Bruce Cockburn • Indigo Girls • Jonny Lang • Patty Griffin George Clinton and the Parlament Funkadelic • The Avett Brothers • Emmylou Harris • Randy Newman • Steve Martin and the Steep Canyon Rangers • Peter Frampton • Brian Wilson • Pat Benetar • The Time Jumpers • Buddy Guy • Lyle Lovett and his Large Band • Stephen Stills and THE RIDES • BB King • Gov't MULE • Dr. John • Michael McDonald • Hot Rize • Blue Sky Riders • Lindsay Buckingham • Vince Gill