The 2017 Troubadour Concert Series is made possible because of Highbridge Springs Water – refreshing, clean and healthy from deep in the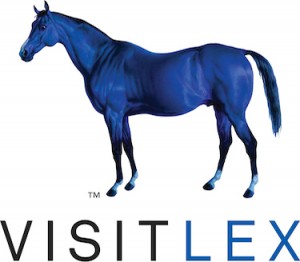 mountain in Wilmore, Ky. Our concerts are held at beautiful concert venues in Lexington, Ky. For information about Lexington: VisitLEX.com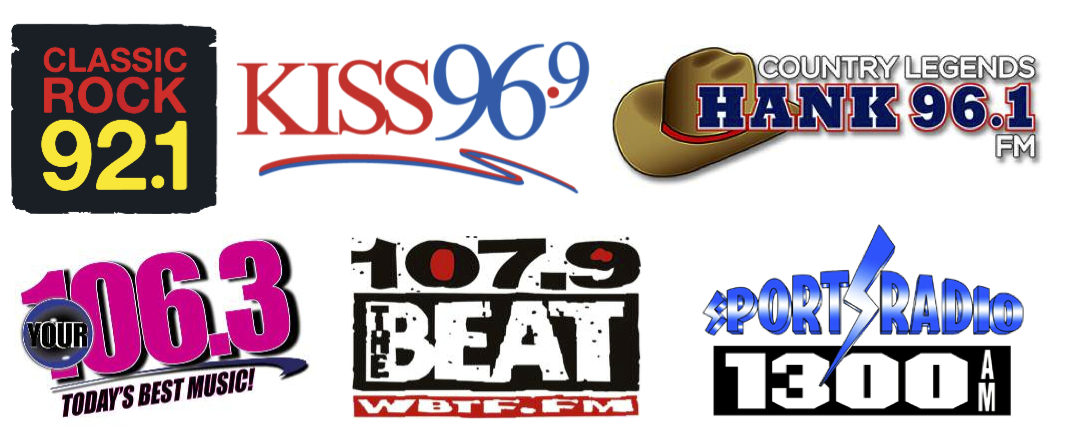 _
An Evening With JUSTIN HAYWARD of the Moody Blues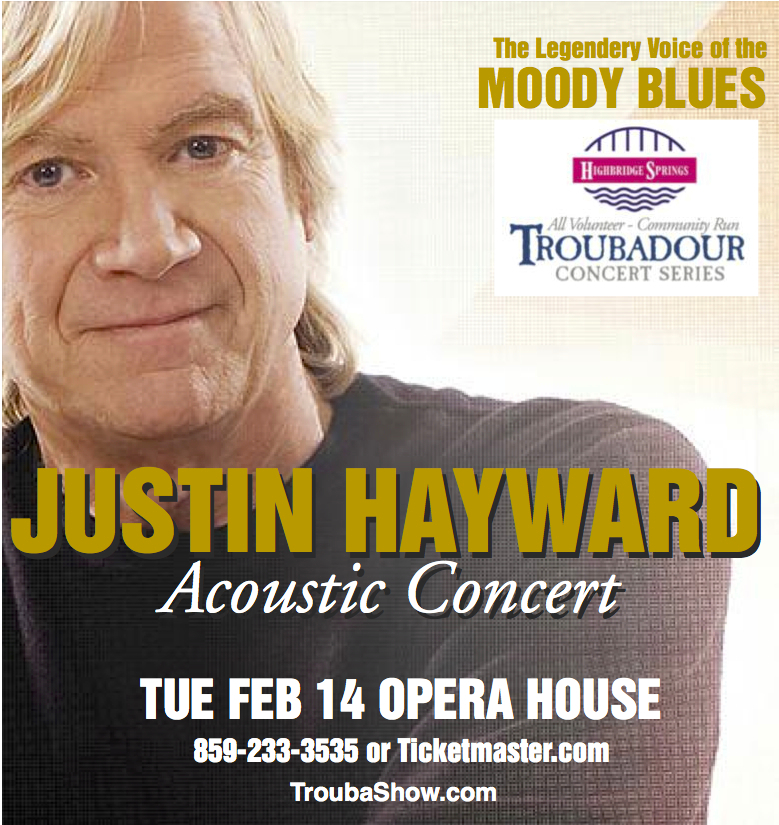 The Wind of Heaven Tour
OPENING ACT Mike Dawes
Tuesday Feb 14 2017 7:30PM
Opera House, Lexington KY
Tickets go on sale FRIDAY DEC 16 10am
For tickets call the Rupp Box Office 859-233-3535 or Ticketmaster.com
The volunteers of the Troubadour Concert Series and Highbridge Springs Water present the legendary Moody Blues' guitarist and vocalist Justin Hayward. His songs have mesmerized fans for decades, perhaps none more than his iconic hit "Nights In White Satin." This will be a rare concert special event, Justin Hayward acoustic … and singing all the massive hits of the Moody Blues.
2017 marks the 50th anniversary of Days of Future Passed by the Moody Blues. The closing track of that landmark album was the classic hit Nights in White Satin, written by a then 20 year old guitarist/vocalist named Justin Hayward. 50 years later, the legendary composer shows no signs of slowing down and in February will embark on his latest solo outing called The Wind of Heaven Tour.
NIGHTS IN WHITE SATIN Acoustic: https://www.youtube.com/watch?v=jHZR8IwOPpc
_________________
An Evening With RIDERS IN THE SKY

30 Years of Music and Celebrating ROY ROGERS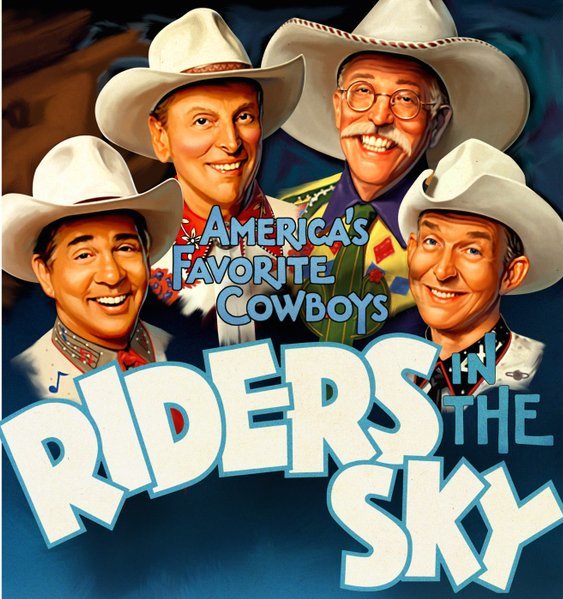 Saturday April 22 2017 7:00PM
Thoroughbred Center Theatre, 3380 Paris Pike, Lexington, KY 40511
Tickets go on sale FRIDAY Feb 10 at 1pm
$10 KIDS 16 and under / $25.50 Adults (plus service charges)
The Lyric Theatre box office is selling these tickets, call 859-280-2218 or Tix.com
The volunteers of the Troubadour Concert Series and Highbridge Springs Water present the multi-Grammy Award winning cowboy band RIDERS IN THE SKY. Stars of stage, screen, Grand Ole Opry members and radio stars RIDERS IN THE SKY featuring Ranger Doug, Woody Paul, Too Slim and Joey the Cowpolka King. They ride into Lexington with over 7,000 concerts performed around the world.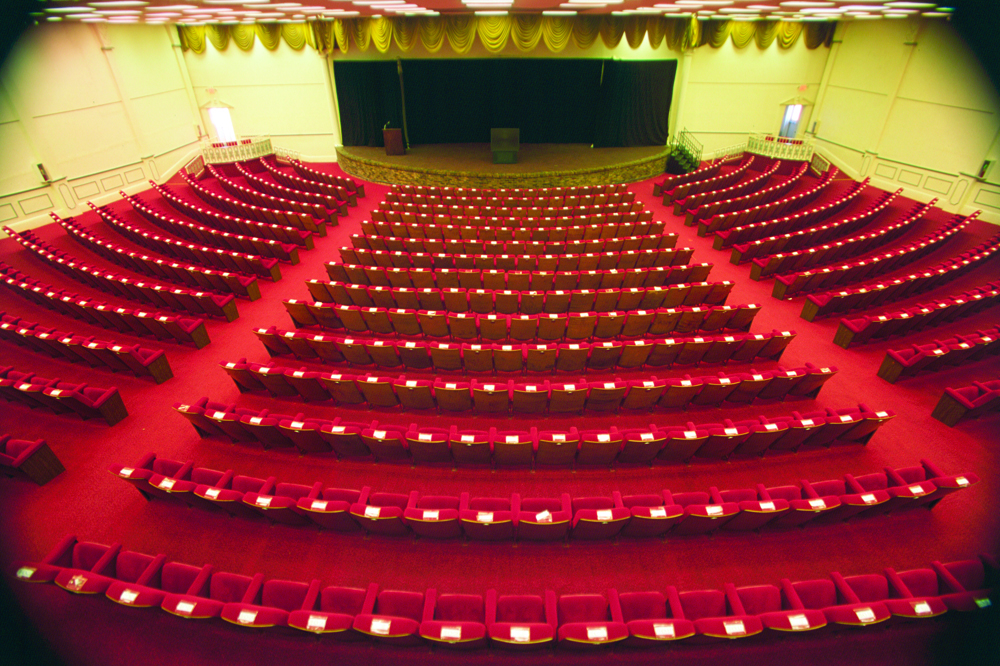 This is our first concert presentation at the beautiful Thoroughbred center Theatre on Paris Pike, in Lexington between New Circle Road and Paris KY. Plenty of FREE parking, refreshment stand and drinks. For venue information call (859) 293-1853
Chris Isaak:  First Comes The Night Tour
Thursday Nov 17 2016 7:30PM RESCHEDULED DATE ANNOUNCED SOON
The volunteers of the Troubadour Concert Series and Highbridge Spring Water announce the RESCHEDULING of the November 17 Chris Isaak concert at the Lexington Opera House. We have been informed by management that Chris has pneumonia and is currently in the hospital. He will be fine, back on the road and the November 17 concert will be rescheduled, expected in early 2017. All tickets and seat assignments will be honored at the new date. Please hold on to your tickets and keep watching TroubaShow.com for details on the rescheduled concert date and other concerts coming in the new year.
TROUBADOUR CONCERT SERIES