The Troubadour Concert Series is made possible because of Highbridge Springs Water – refreshing, clean and healthy from deep in the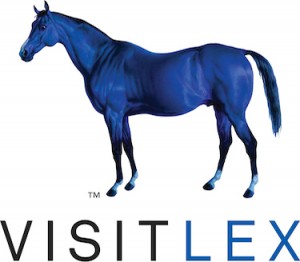 mountain in Wilmore, Ky. Our concerts are held at beautiful concert venues in Lexington, Ky. For information about Lexington log over to VisitLEX.com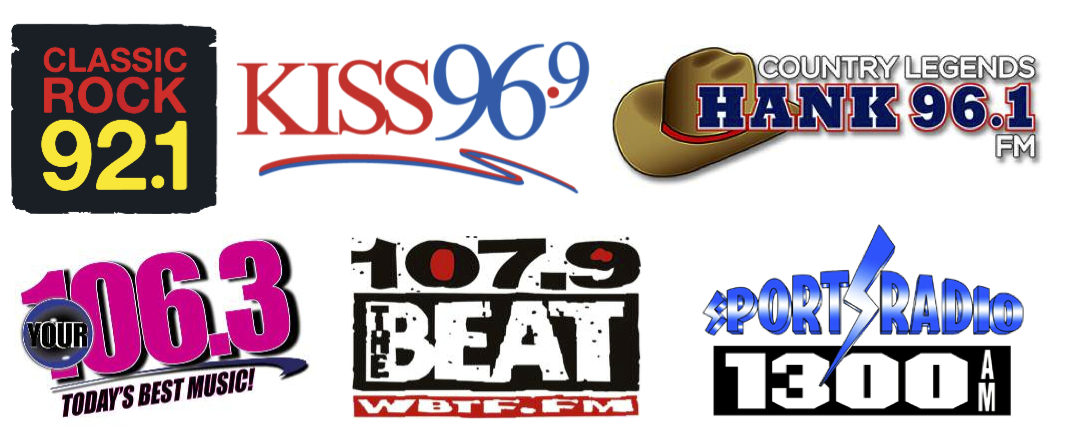 _
An Evening With PETER FRAMPTON RAW: Acoustic Concert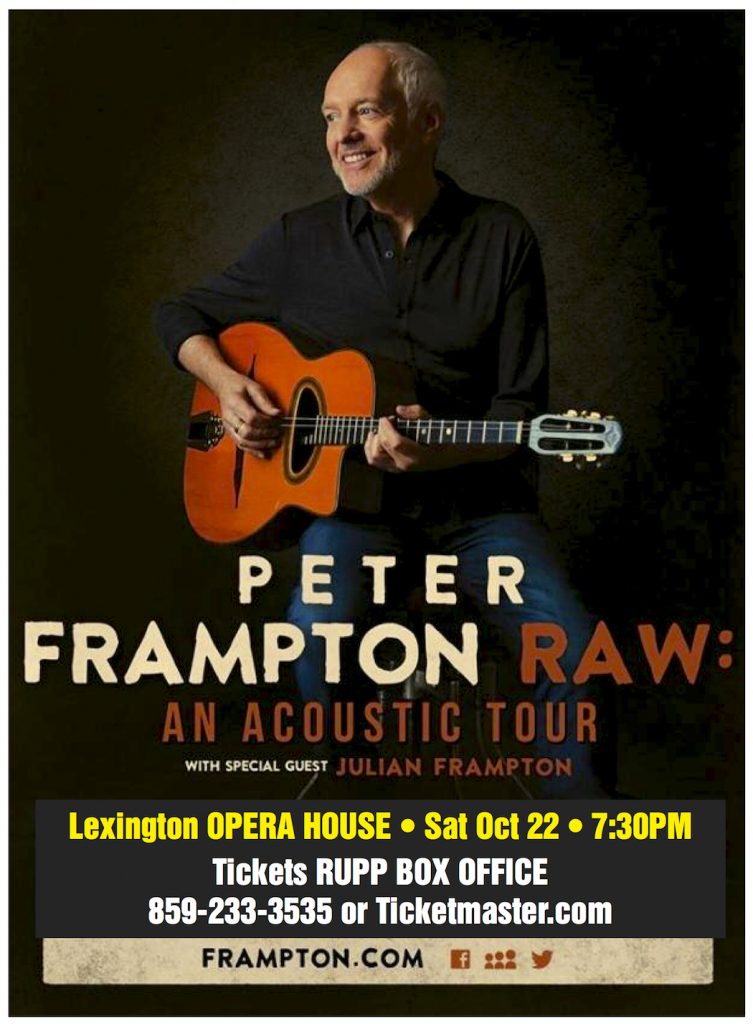 _Saturday Oct 22 2016 7:30PM
Opera House, Lexington KY Tickets on sale NOW
The Troubadour Concert Series and Highbridge Spring Water is excited to present the legendary PETER FRAMPTON for an acoustic concert evening
PETER FRAMPTON fans will have a chance to see him in a more intimate musical setting this October 22 at the historic Lexington Opera House, a rare acoustic performance as part of the Troubadour Concert Series.
Frampton is best known for his fifth solo album, Frampton Comes Alive!, released in 1976 as a two-record set. Immediately upon release, the album launched Frampton into the stratosphere with huge sales, hit singles and arena tours. Alive! was #1 for ten weeks and remains one of the best-selling live albums of all time."
Due to the overwhelming response, he has announced an additional set of "Peter Frampton Raw, An Acoustic Tour" along with Frampton's son, the singer and guitarist Julian. The Troubadour Concert Series is proud to present Peter Frampton in concert for the second time, thanks to Highbridge Spring Water and out media partners.
He'll be joined by his son, singer-guitarist Julian Frampton.
Watch the acoustic version of DO YOU FEEL LIKE I DO – https://www.youtube.com/watch?v=-GoJxPqwJb4
An Evening With CHRIS ISAAK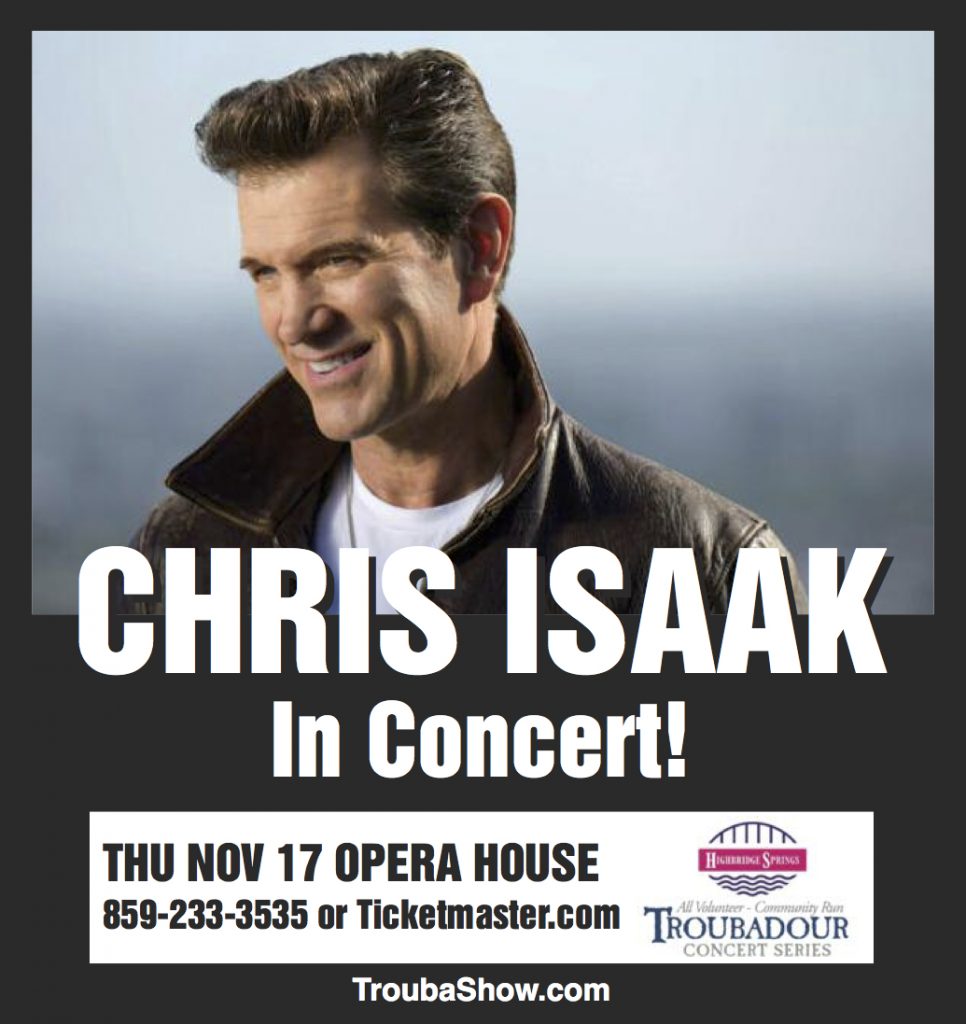 Chris Isaak:  First Comes The Night Tour
Thursday Nov 17 2016 7:30PM
HIGHBRIDGE SPRING WATER and the volunteers if the Troubadour Concert Series are excited to present Chris Isaak at the historic Lexington Opera House.
Isaak, who has a reputation as a supreme showman and one of the funniest live performers today, is a non-stop touring Grammy nominated singer-songwriter, actor and talk show host. With his stellar bandmates, Silvertone, Isaak's haunting voice, fierce guitar, and glittered outfits, Isaak has entertained fans for decades.
First Comes the Night on Vanguard Records is Isaak's first recording of original songs in six years, is the follow up to Isaak's 2011 Beyond The Sunmasterpiece CD – a breathtaking tribute album to Sun Records, Sam Phillips and the visionary artists who continue to inspire him and helped shape the early sounds of rock 'n' roll.
Standout hits include: the iconic "Wicked Game," "Baby Did a Bad Bad Thing" and "Somebody's Crying." He has appeared on many TV shows and has acted in several films and starred in Showtime's The Chris Isaak Show and The Chris Isaak Hour on the Biography Channel.